Hello guy's let me allow to apologize for the delay in uploading the last day of the trip.
Day 3
Feb.03/2013
Next morning around 6:30AM when we woke up and I hear some bird sound outside my window- not too far from Dr. Dushyant Gaur's place. I was discussing with my cousin about this and the same time Prashant walked in to the room and he ask me "Baljit did you heard the voice of Grouse and wild chicken" and I said "Yes I did", guy's it was a wonderful moment for me because these are the only voice we can hear- nothing else.
Around 8:00AM as agreed we leave for Chilla.As we step out from Dr.Dushyant Gaur's place, I notice frost on the ground and some clouds in the sky; but shy sun is peeking through the clouds.
We leave Dr.Dushyant Gaur's place right on time but we have to make a quick stop to pick up Dr.Gaurav Chopra who is accompanying to Chilla.
Around 8:15AM all five of us leave for Chilla in Prashant's safari SUV. I am very excited about this tour because this is the first time in my life I am visiting any National Park in India, anyway we arrived at the main reception and Rajaji Park entrance around 8:45AM and we all agreed on a quick breakfast as our first priority. We have to enter Rajaji National Park with our own vehicle before 9:30AM after which you have to hire the park's vehicle.
In the bottom picture i am standing with Dr.Gaurav Chopra.
Here is a link for Rajaji National Park for more info....
http://www.rajajinationalpark.org/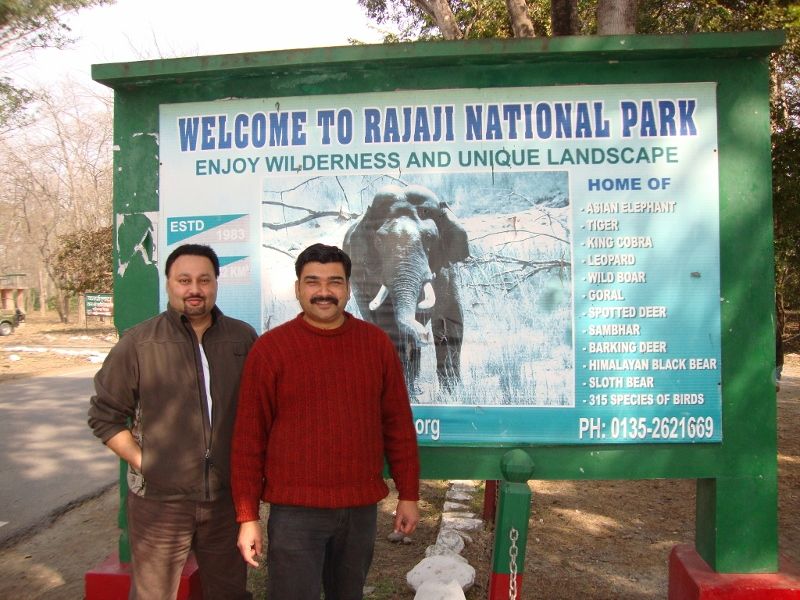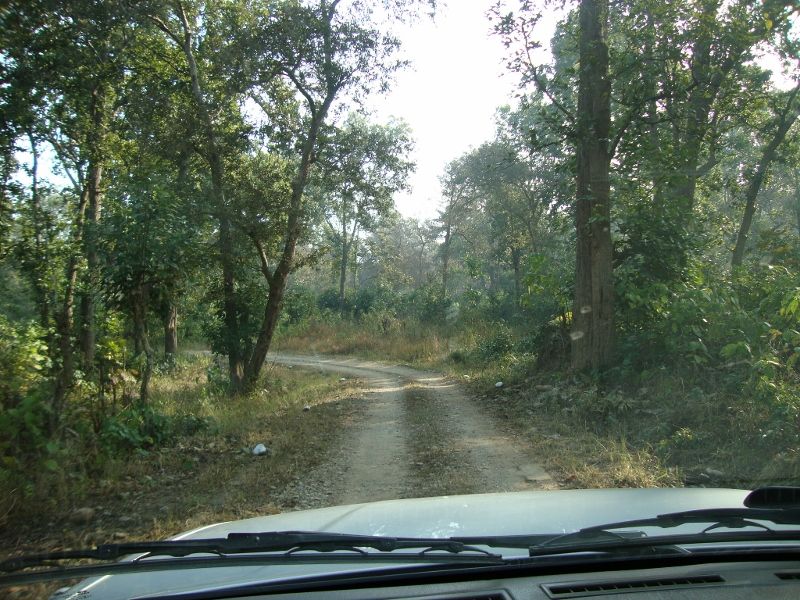 After 20min drive in the park Prashant spot a wild boar on his side of the road; by the time all of us spot him he is long gone. He did not give us an enough time for pictures.After Other 30min drive or so of driving we notice lots of elephant and deer track on the ground. All of us are very excited-may be we can get to see lot's of wildlife, here in this park.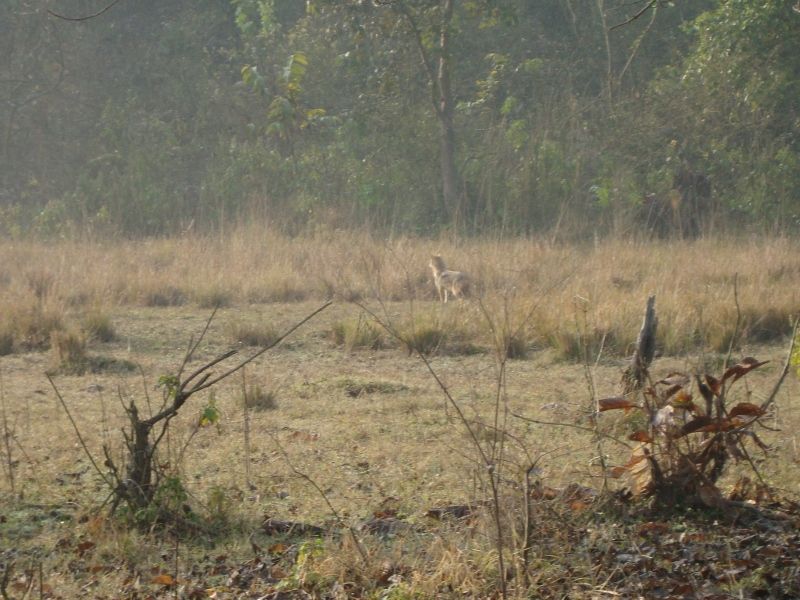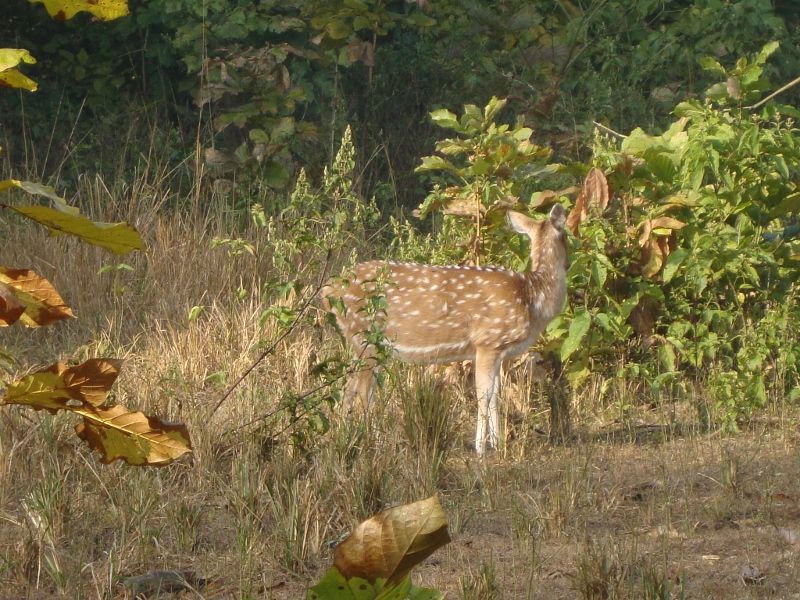 After couple of hrs. drive we take a short break here.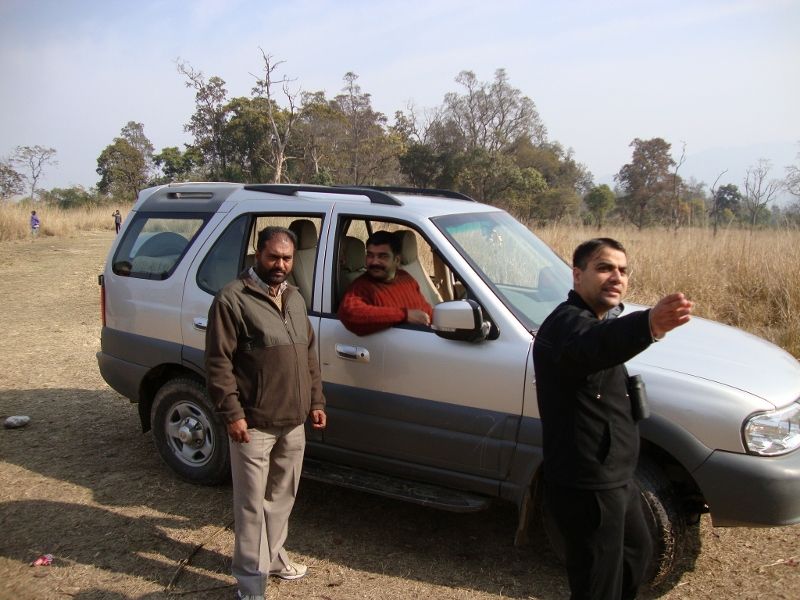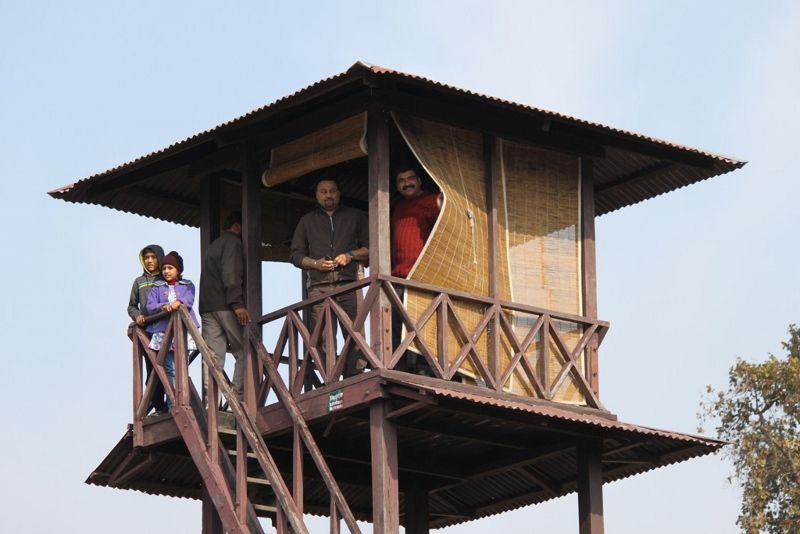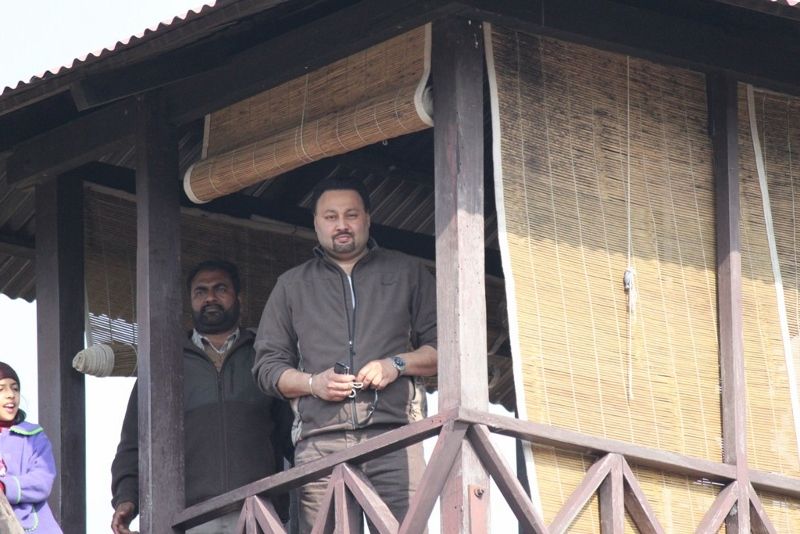 This is the view of Rajaji National Park from the top.
Sorry guy's i don't know anything about these birds.(Prashant can you explain this?)
Sambhar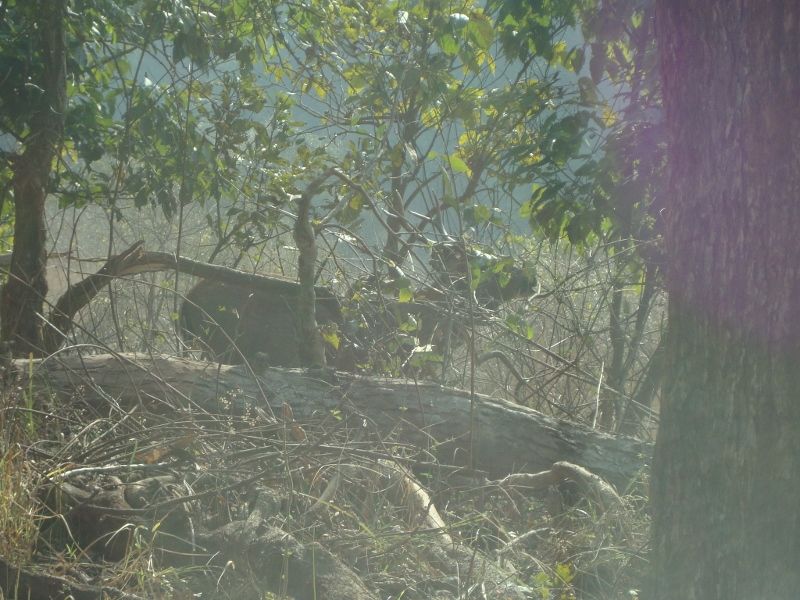 Spotted deer.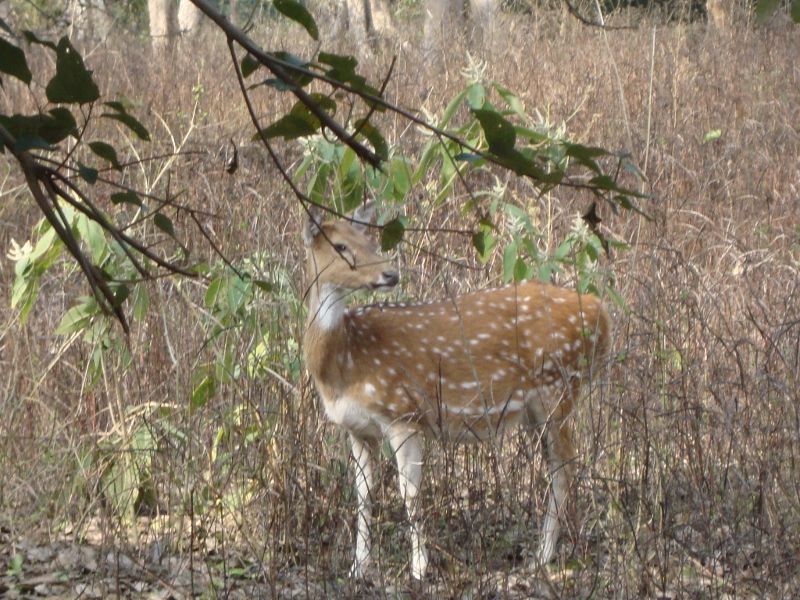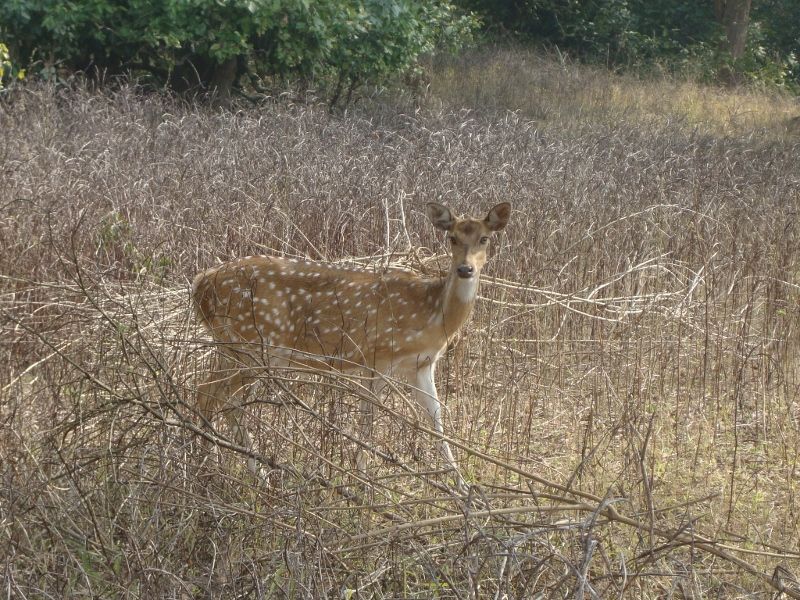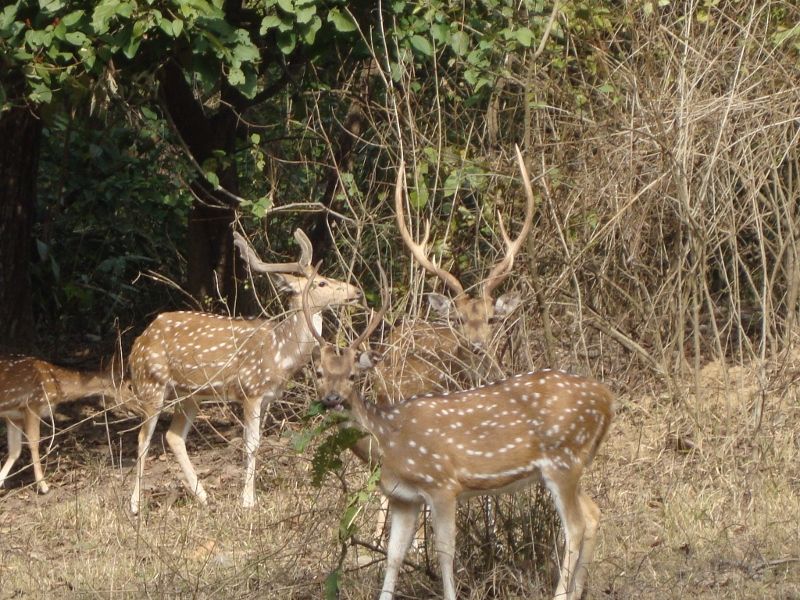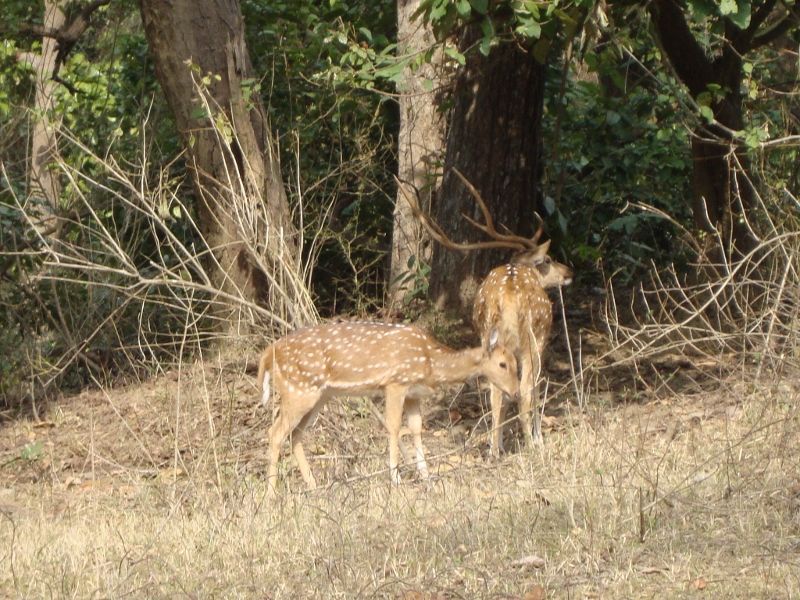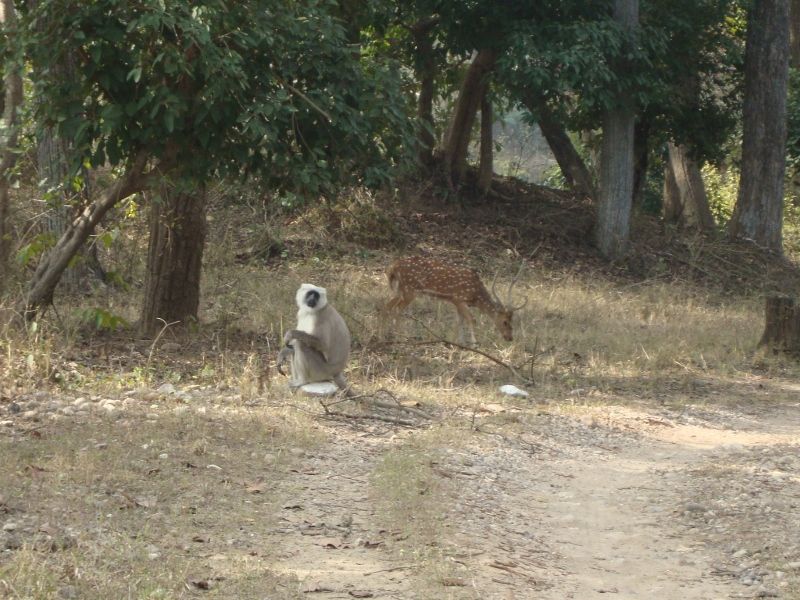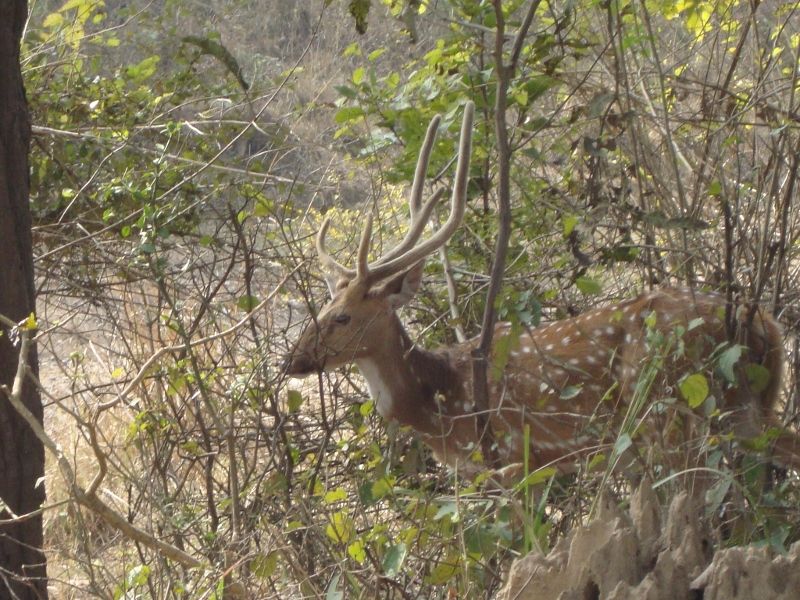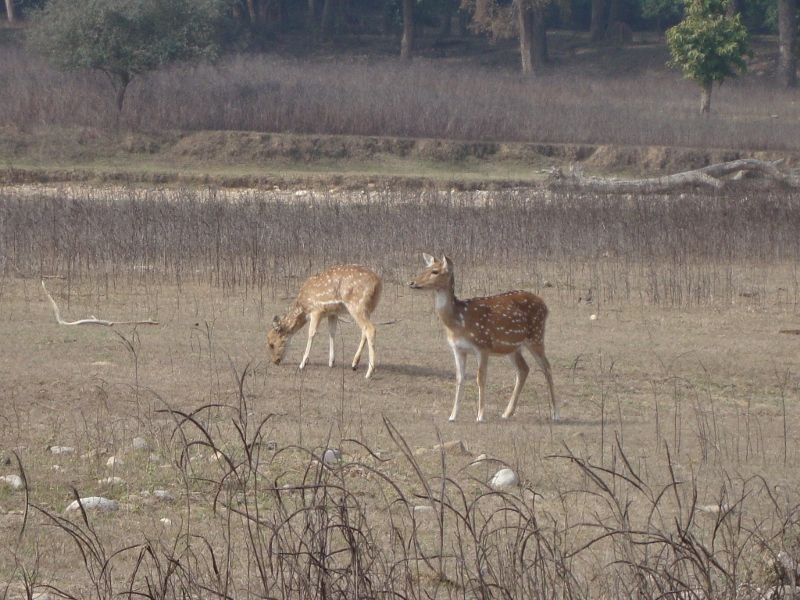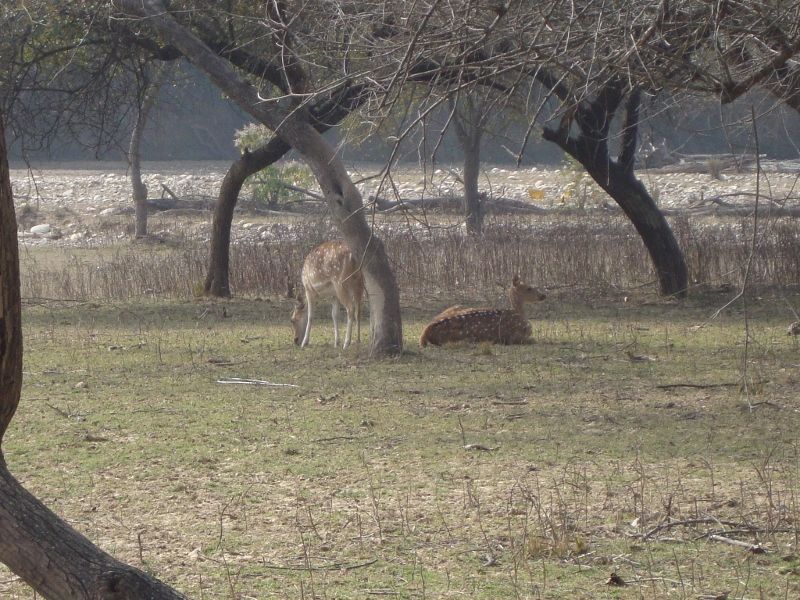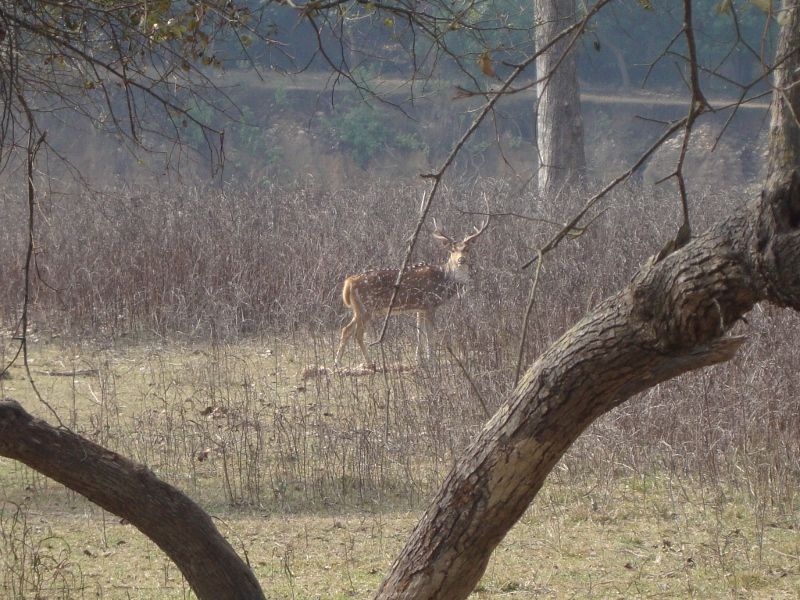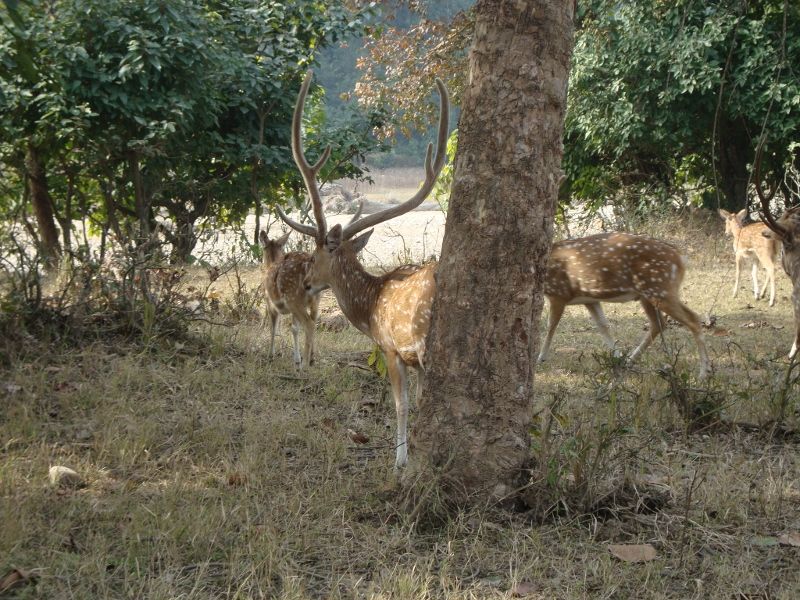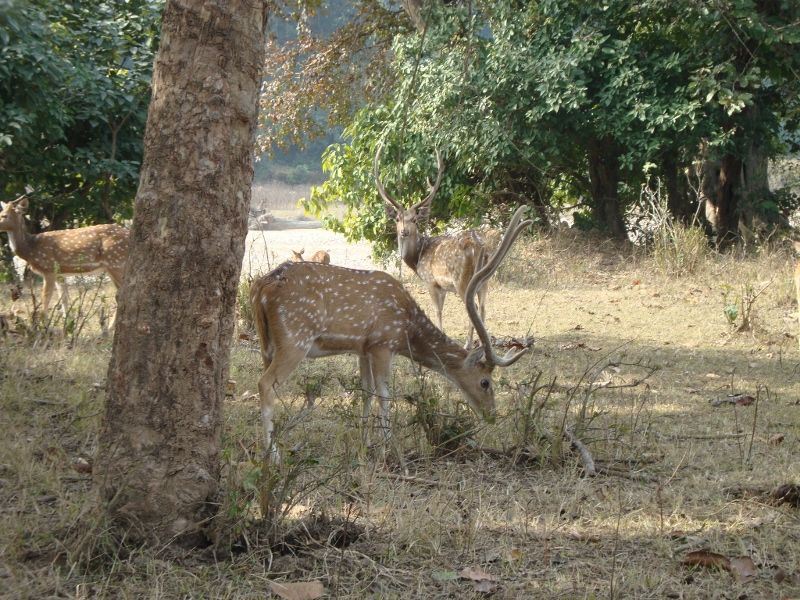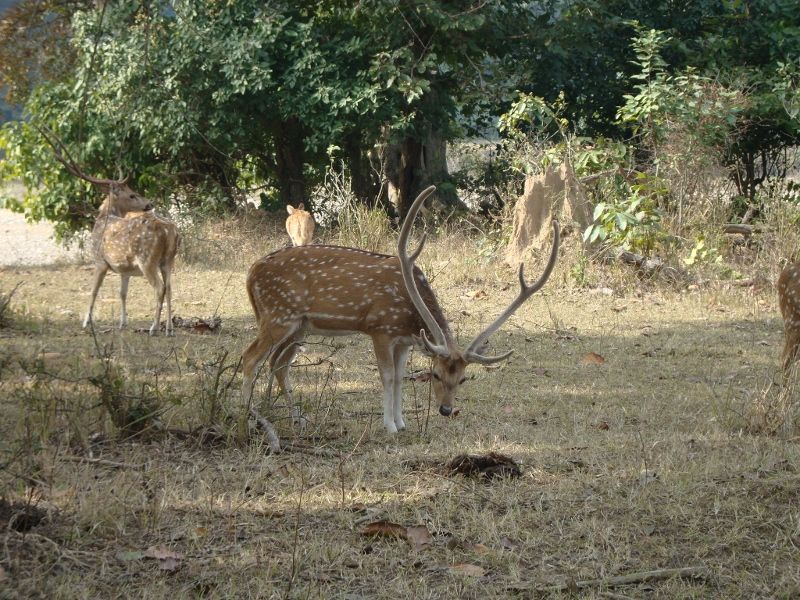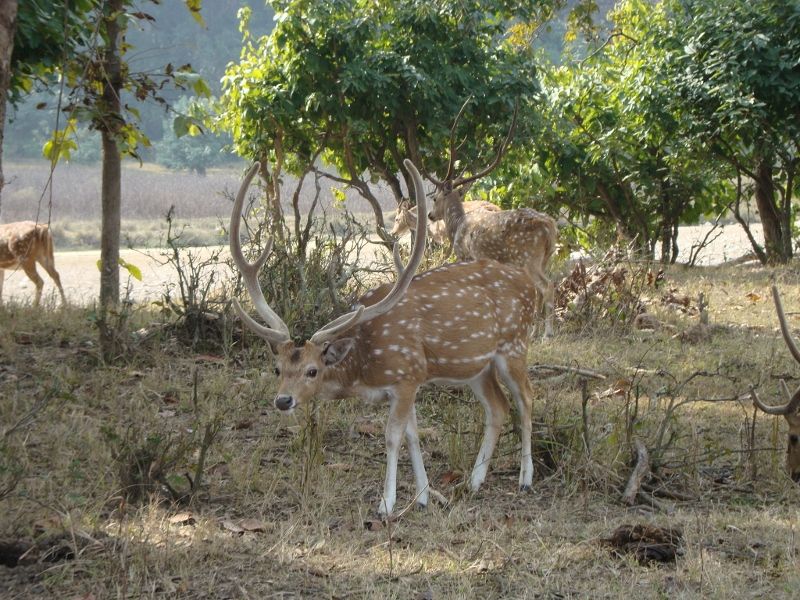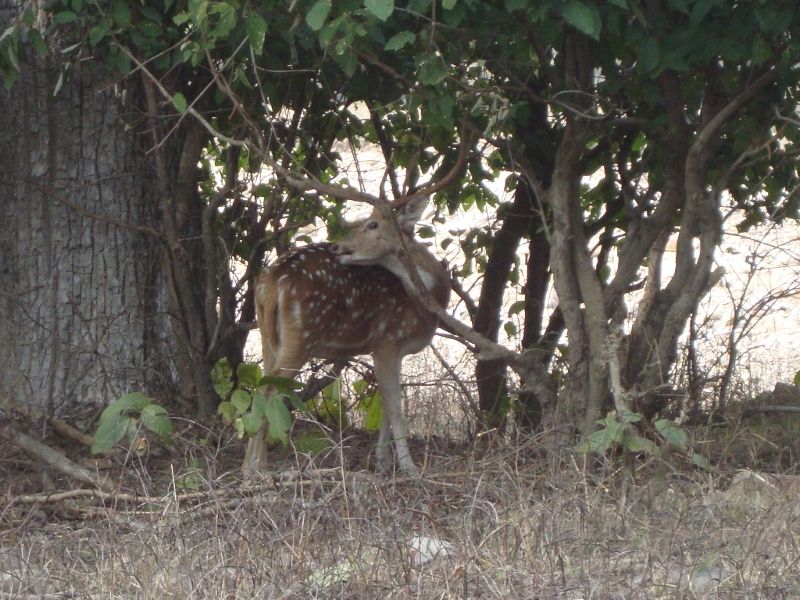 Around 2:00PM when we are coming out from the park and we see an elephant from some distance.
Around 2:30PM we finished the tour of this park and we are on the back to Dr.Dushyant Gaur's place. After we drop off(Dr. Dushyant Gaur and Dr.Gaurav Chopra) of at there place, Himalayan Institute Hospital Trust in Jolly Grant then we leave for Doon. When we are on the way back to Doon Prashant asks me "Do we have an enough time for zero his rifle?"I reply in the affirmative.
Around 3:15PM we are back in the club house. Prashant drop us of at the club house and goes to his place to pick up his 30-06 rifle and SXS 12 Bore.
When Prashant returns he says that Corbett99 would also like to go to the range with us. I says that's fine with me. Shortly Crobett99 arrives at the club house and we are ready to leave for the range.My cousin says he would like to stay back in the club house and take a little rest.The three of us left for the range where we plan to zero Prashant's scope.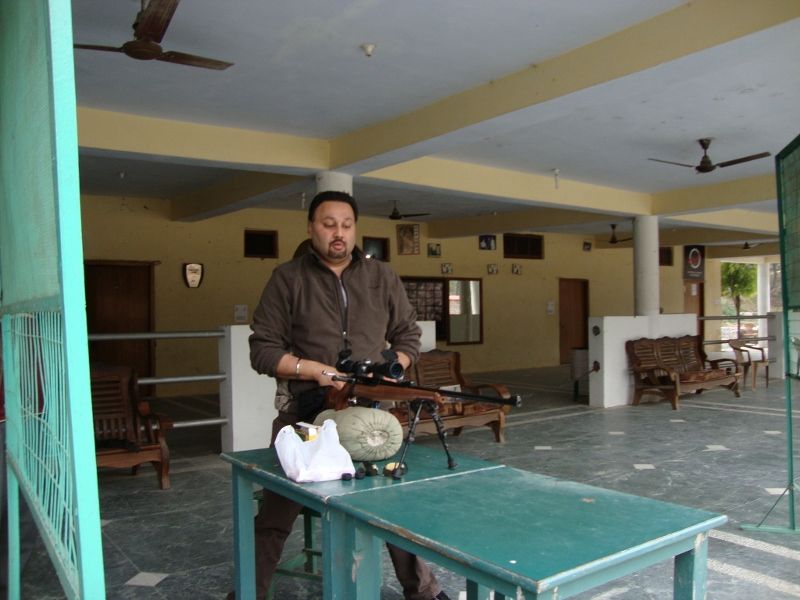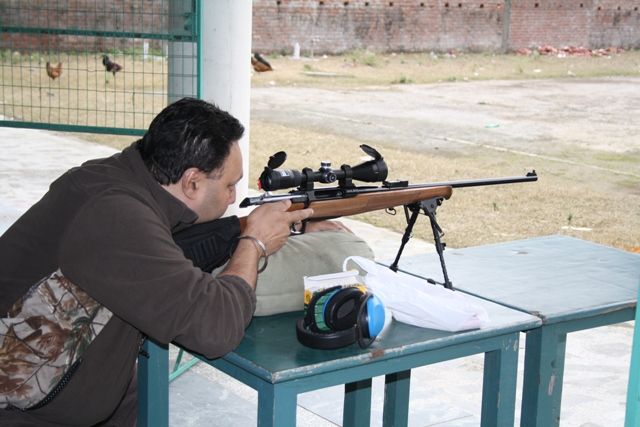 in the bottom picture i am with Prashant and Corbett99 after i am zeroing the rifle.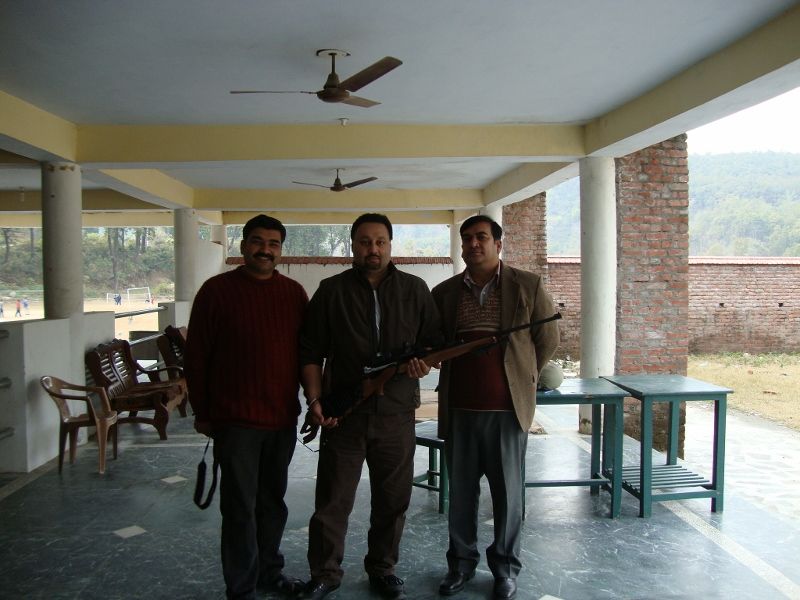 After I finish zeroing his rifle all of us come back to the club house.Prashant asks us to relax while cleans off the rifle and shotgun and puts then away.
Here in the club house three of us,Corbett99, my cousin and I have a cup of tea and long relaxed chat. An hour later we receive a phone call from Prashant saing that he is ready he ask us to come over.
From here Crobett99 drives us to Prashant's place a short 10min trip.Shortly after that, Prashant hand over me a drink (Black label). All of us have a really chilling session and few more drinks.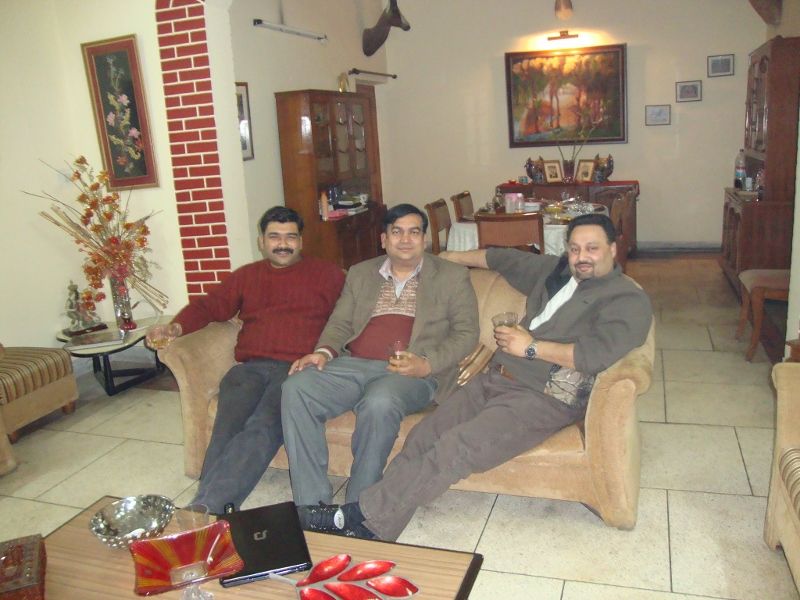 Later on all of us have a really good dinner made by Prashant's wife.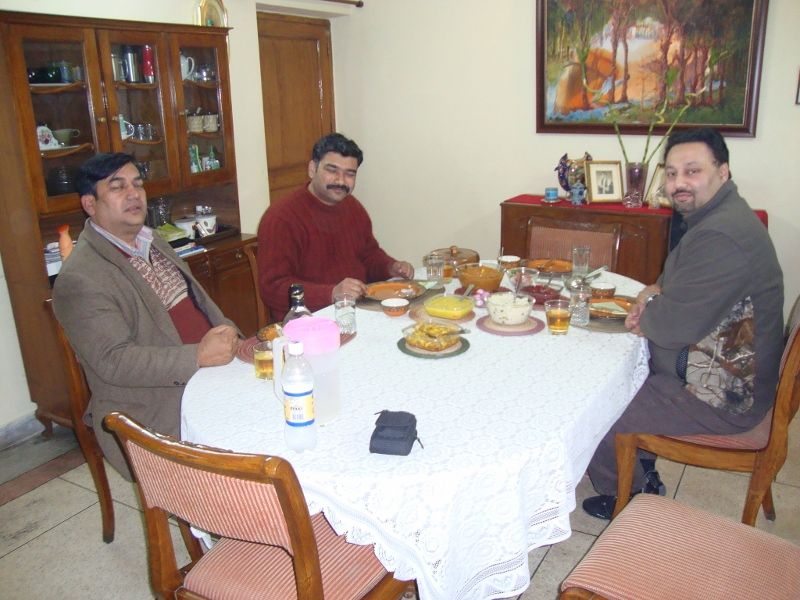 Shortly after dinner Corbeet99 says good night and leaves,after which the remaining participants continue our banter past midnight.
I says to Prashant "I think we should get going as it is pretty late".My cousin and I leave for the club house.we reach in a mere 10 min to where we stay overnight.We set the alarm for 7:00AM on my cell phone.
Next morning we wake up to the bell,I quickly step into the shower,when I am done my cousin suggests that I should order the breakfast while he gets wet.Soon after we receive a phone call from Prashant he is just checking on us and calling to say " Good Morning."
By the time we finish the breakfast it's 8:30AM on the clock; we pack our bags in the Scorpio and check out from the club house,and soon we are on the way back to Punjab.
What a wonderful host Prashant and his family,I am overwhelmed and truly grateful to and humbled by Prashant and his family for their immense sense of hospitality and friendship -I can't thank them enough for their gracious courtesy.I had a wonderful experience in India meeting fellow IFG'ians and had a lot of fun.
Thank you once again,Prashant for making this trip so exciting and enjoyable.

Enjoy
Baljit