A couple of weeks ago (Saturday 24th October) some of us IFG-ians from the northeast finally got the courage to meet and share some tall stories. It promised to be an interesting meet with plans to go shooting and fishing at the local (what-its-name) lake. The group consisted of Nagarifle from (where else?) , Cottagecheese (Shillong) and myself from Mizoland.
I had planned to take a round about trip via Kolkotta-Guwahati-Shillong ending up with a by-road trip back home from shillong. But this was altered the otherway round due to reasons related to... ahem!.. Er, aaah... You know the Mizoram Excise department is very vigilant at the checkgates at the borders and you'all know that Mizoram is a dry state... Winter being so close and the Excise department is so very conveniently lax at the airport... I thought just maybe I'd you know.. stock up on the 'stomach jacket' stuff for the freezing months of winter.
Anyway thats another story. As it turned out, I left rainy Aizawl by road hoping that Shillong would be much dryer. Was I ever wrong! Nagarifle (Nags) blamed it all on me of course being the only Jonah around. It started raining the same evening I arrived and It just rained and rained. Cottagecheese (CC) had put us up at a very cosy hotel named 'El Dorado' and that's where we stayed till we called it quits and went our ways on monday evening.
Ok... Well I almost forgot, we visited CC's shop and backyard workshop and saw a lot of interesting stuff. Back home he showed off his self restored ________________ (fill in the blanks CC) which was a real beauty. It has been sometime since I put my paws on a ____ and boy does it dwarf my Glock! One really begins to understand what it means to look down the barrel of a gun when one is on the bad side of a cannon such as this. Maybe Abhijeet would know. Anyway, the shop had quiet a few interesting stuff some of which included a... Dreilinger! Would you believe it! I had my digital camera in my pocket all the time and never remembered to take photos! By Heck! Must have had something to do with the rains.
Oh yes Sunday was a full day spent at the hotel and a small sunday service hosted by Nags in his room. (Nags, I'll always remember the sermon and the Bible quote from Malachai.. I intend to follow it by the Book! May God bless your bald head

) Of course I got me a few new toys which Nags got for me from back home, which made the event a bit more worthwhile (Hey guys dont get me wrong! Loved meeting and chatting up with you)
Ye Olde Motel El Dorado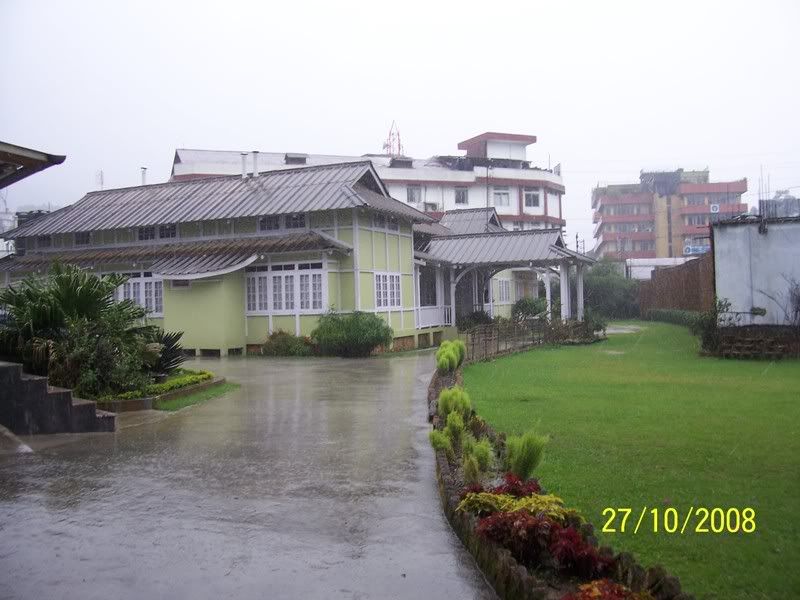 IFG-ians at a local Restaurant in Shillong.. (Too Bad Nags was the only one with guts enough to bring his missus along)
One of my new Toys!!.. (Not the gun stupid)
By the way thats a new style of T-Shirt getting very popular here in Mizoram and has nothing to do with a paunch.. Rusty and Dev I think you should get one of these T-Shirts really smashing!